I'm currently working with L'Occitane on the relaunch of the Immortelle Divine range, but this blog post is not part of the collaboration.
Regular readers will already know of my long standing love for L'Occitane's Immortelle Divine Collection, having spoken about it lots over the last few years. The star ingredient of the range is the immortelle flower, grown in Corsica and despite its harsh growing conditions like salty winds and intense sunlight, it doesn't wither after it's been picked. I feel like I could learn a lot from that little yellow flower! L'Occitane have now enriched products from the Immortelle Divine range with two new extracts from the same little flower, using new extraction techniques.
The Immortelle Super Extract unlocks similar skin volume benefits to retinol, whilst being gentler on the skin. It acts like retinol and stimulates collagen synthesis, whilst boosting cell proliferation, triggering the skin's renewal and thickening the epidermis. Think retinol, but without the usual harsh side effects, especially for those of us with sensitive skin.
The second new extract is the Immortelle Super Aqueous Extract which helps boost the antioxidant protection of the Immortelle Essential oil and helps protect from blue light overexposure. L'Occitane have reformulated three of their Immortelle Divine range which I've been using for the last 5 weeks.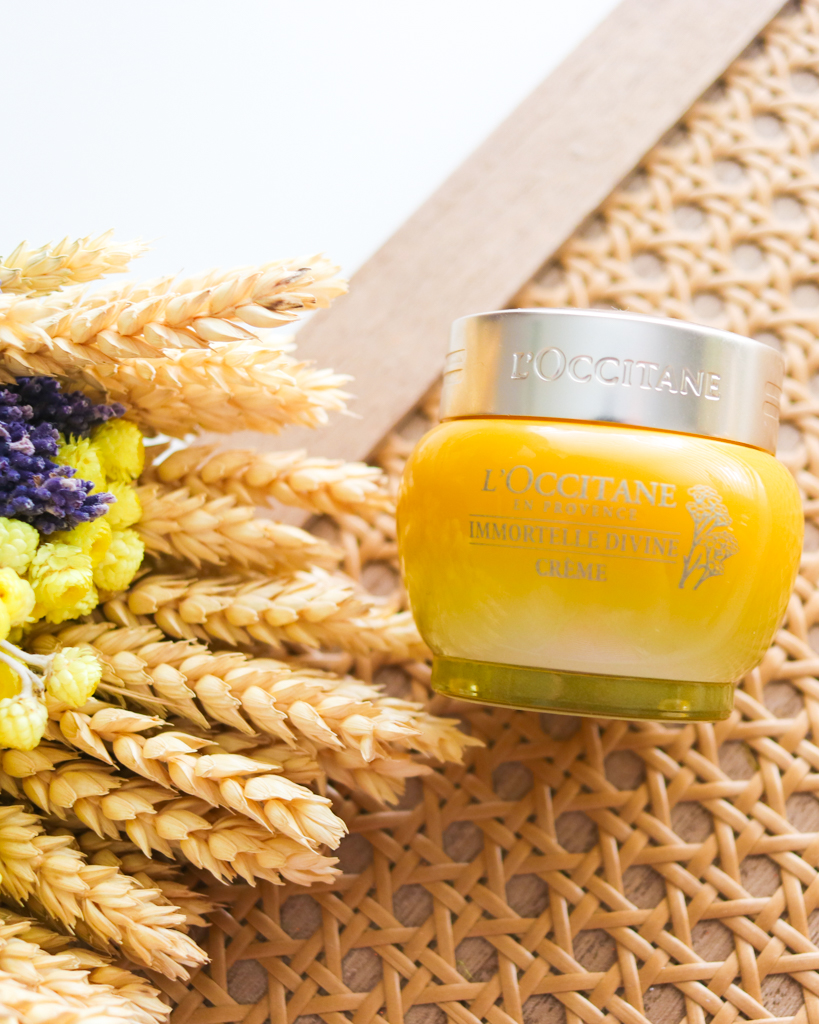 The L'Occitane Immortelle Divine Creme is one I've reused over and over. The delicate scent sets the tone when using it and the rich, thick texture is like a hug for the skin, melting into it. A tub of the Divine Cream contains the power of 600 immortelle flowers and my skin feels soft, smooth and looks more radiant when using it. It's a beautiful moisturiser and the results are why I go back to it time and time again.
As I move through my 40s, in denial that I'm a proper adult, I've been making more of an effort to use an eye cream. The L'Occitane Divine Eye Balm helps to tackle the visible signs of aging, helping with bags under the eyes, crow's feet and dark circles. Few things bring me as much joy as when I start to see my crow's feet filling out a bit!
Finally, we have L'Occitane's Divine Youth Oil. As the weather changes and gets colder each year, that's usually when I start using facial oils regularly. I've been using this one once a week at the moment, but I'll be moving up to using it twice or three times a week at night, depending on what my skin needs. This has 98% natural-origin ingredients and helps intensely moisturise and nourish the skin. I like doing a bit of facial massage when using my Divine Youth Oil too to help work it into the skin. A couple of drops applied over my moisturiser or mixed in with it is all I need.
The reformulated Immortelle Divine range is in stores and online now. Will you be picking it up?