For those of us with sensitive skin, the idea of using retinol can be a bit daunting. Over the years, I've tried a few, only to find that they were too harsh for my delicate little mush, and so I'd resigned myself to the fact that retinols were not in my future. Until now. No7 approached me before the launch of the No7 Advanced Retinol 1.5% Complex Night Concentrate to see if I wanted to work with them, filling my audience in on the new product.
For full transparency, my contract involved content on my experience with the product about 10 days after using it and that was it. After those 10 days, not only did I see zero reaction to it, but I was starting to see results. I decided myself to continue using it, giving a full review on Instagram after a month. That wasn't part of the collaboration and neither is this review. I'm asked about this so often and I thought having a blog post to refer people to would be handy for everyone! So here are my thoughts on the No7 Advanced Retinol 1.5% Complex Night Concentrate!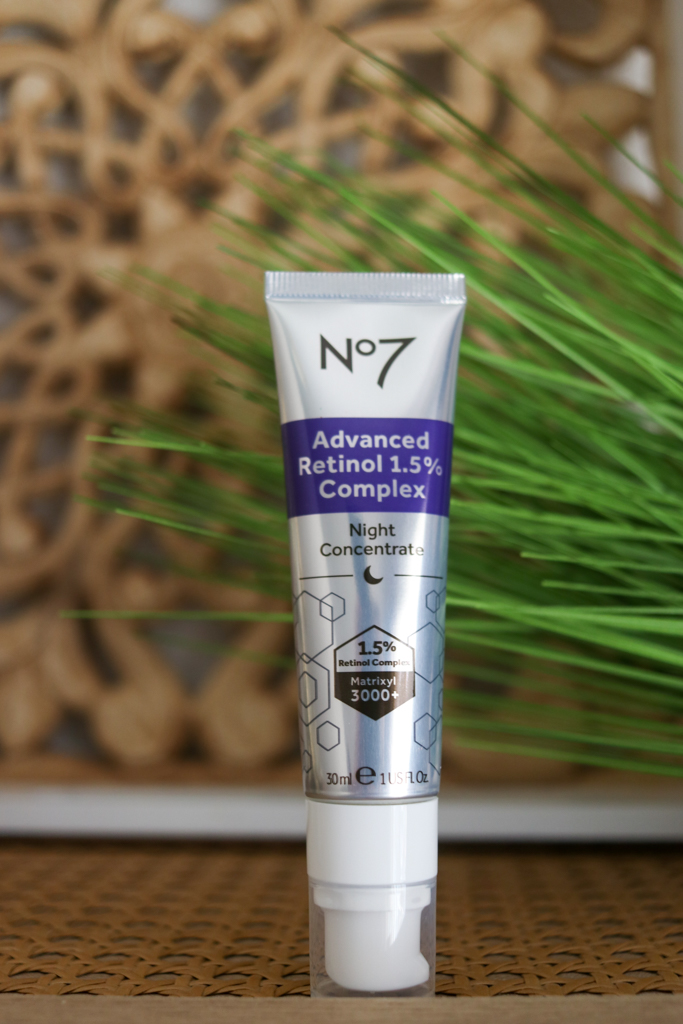 What is the No7 Advanced Retinol 1.5% Complex Night Concentrate?
This concentrate contains 0.3% retinol, an expert recommended level of retinol for efficacy and comfort. So while it's gentle on the skin, it gives results too. The other main ingredients are Matrixyl 3000 Plus, No7's anti-wrinkle peptide that's in many of their skincare products, along with retinol optimiser which helps the slow release of retinol overnight and Bisabolol, a retinol soother to help reduce the potential for any reactions on the skin.
What does it do?
No7 claims it helps gently resurface the skin, visibly reduces the appearance of fine lines, wrinkles and pigmentation, refines pores, evens skin tone and texture. It helps maintain the skin's bounce, resilience and leaves the skin looking smooth, hydrated and healthy. Those are No7's words. You can read mine below!
How should I use it?
Because of previous reactions with other retinols, I was militant about how I used this and followed the instructions to the letter. I started off by using it once on the first week, twice on the second week (on non consecutive nights), on the third week I moved to every second night and by the fourth week I was using it every night. But if you're using this, feel free to go at your own pace, depending on how your skin is feeling. It might take you longer than 4 weeks to build up to using it every night and that's ok. Everyone's skin is different. By building up the skin's tolerance slowly like this, it minimises the risk of reaction and sensitivity.
As the name suggests, this is a night concentrate, so you use it as part of your night time skincare routine. No7 advises to use two pumps on cleansed skin, allowing it to dry fully before using your other serums and moisturisers. And it is vital when using any type of retinol, to use SPF the next day, rain, hail or shine. Because retinols essentially speed up skin renewal, this new skin can be more prone to sun burn. And as well as that, UV rays can break down retinol, making them ineffective. I use at least an SPF30. And at night, over the Night Concentrate, I make sure to use a rich moisturiser to help avoid any potential dryness.
What results did I get?
I love when I can see results soon after using a skincare product. It encourages me to keep using it and that's exactly what happened. Firstly, I had no reaction at all, but as mentioned above, if you're someone with sensitive skin, take it day by day and adjust the application accordingly. I noticed that my frown lines were absolutely less pronounced and maybe I've been frowning less in recent months, but highly unlikely! The pores on my face, either side of my nose looked less obvious. My skin as a whole was much smoother and I found my makeup applied much more evenly. I don't have problems with pigmentation so I can't comment on that, but I felt my complexion was brighter and I was delighted with my skin.
When testing it out for the month, I made sure that this was the only product I changed in my skincare routine, so I could tell if it made a difference. And it really did. I feel like for me, this is one of those products I'll continue using because the results are fantastic. Over the summer, I stopped using it as I was trialling out another product, but after a couple of weeks, I had to go back on this because I missed it and wasn't getting any results from the other product.
The No7 Advanced Retinol 1.5% Complex Night Concentrate is available to buy now and at the time of this post, it's on sale! It's €25, down from €36, so a proper bargain. Will you be trying it? I've added it to my great skincare discoveries of 2020!