As a long time fan of the IT Cosmetics Your Skin But Better CC Cream, I was intrigued to try the brand's newest offering, the IT Cosmetics Your Skin But Better Foundation (€39.50). They sent me shade 22 Light Neutral which is a pretty perfect match for me, and since then, I've been wearing it daily so I could report back.
First up, this promises a lightweight, medium buildable coverage with a natural radiant finish, and it definitely ticks those boxes. It also has skincare benefits, as does the CC Cream, with Hyaluronic Acid, aloe vera extract, vitamins E and B5 and hepes acid. For those who hadn't heard of hepes acid either, it activates the natural enzymes in the skin to break the bonds that bind dead skin cells to the surface, giving even exfoliation.
While having skincare infused in foundation is a nice bonus, it's not generally a reason I'd go out and trial a new base. That's what my skincare routine is for! With the small amount of product that I'd tend to apply, I'm not sure what difference the skincare would make, but sure it can't hurt. But the performance of the foundation itself is enough to have me using it daily and loving it. Let's take a look shall we?
A quick before and after shows the coverage that you get with the IT Cosmetics foundation. Because each pump dispenses a small amount, I've been using 3 pumps to cover my face to get this finish. It covers my redness and evens out my complexion, while still looking natural and radiant. I've found that the best way for me to get a flawless finish with this is by using a makeup sponge. Applying it with a brush can tend to make it looks more obvious on my skin, and I want a natural looking finish.
The dry down is really quick on the foundation, with plenty of time to blend it out, and I don't have to powder it at all, not even on my oily t-zone. It stays looking exactly like this throughout the whole day (obviously friction from a face covering will affect any foundation's wear time), but at the end of a busy work day, while the rest of me is in disarray, my foundation still looks fresh as a daisy!
While I can report back on how it looks and feels on my oily combo skin, I think those with dry skin will really like this too. And for those with redness like me, it's buildable to give higher coverage.
How does the IT Cosmetics Your Skin But Better Foundation compare to the IT Cosmetics Your Skin But Better CC Cream?
Let me show you!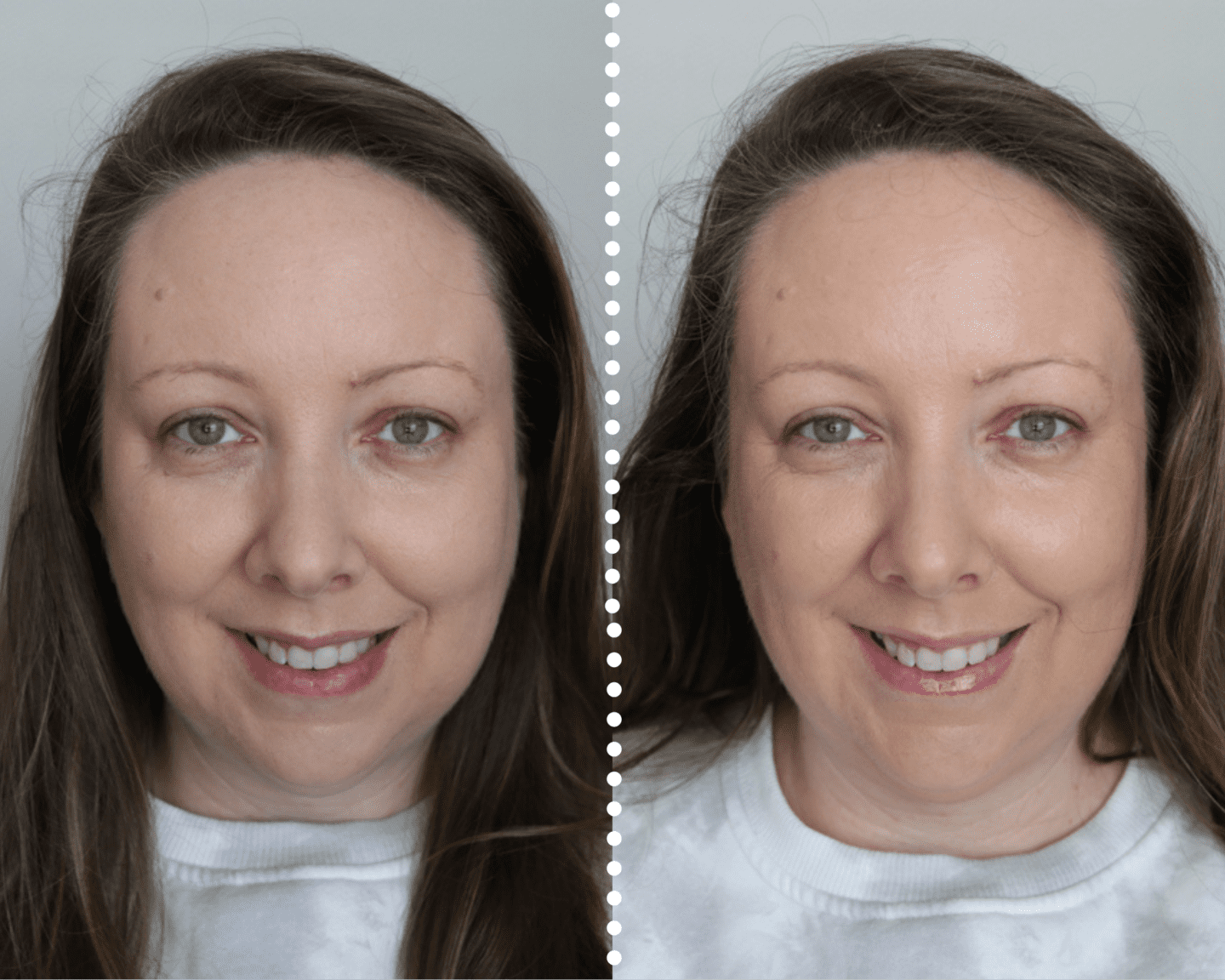 On the left is the IT Cosmetics foundation in shade 22 Light Neutral and on the right is the IT Cosmetics CC Cream in shade Light. Shade difference aside, the two give a really similar level of coverage. Speaking of shades, the foundation comes in 40 shades, while the CC Cream comes in just 12 shades. The CC Cream doesn't dry down, so for anyone out there with oily skin, you'd definitely need to powder it. And while the foundation gives a more natural radiance, the CC Cream has more of a glow. The foundation feels more lightweight on my skin and longevity is definitely better on it too.
The IT Cosmetics Your Skin But Better Foundation is said to be available online from Arnotts, Brown Thomas and CH Tralee. I've not been able to find it on any of the websites, so I've found it on Cult Beauty if you fancy buying online €39.50 (AF link).
I'm not going to lie, I didn't think I'd love the foundation more than the CC Cream, but it works beautifully on my complexion