It's January, it's cold, it's miserable and I think we all lived a lot of life in the first week of the year! The general morale online seems to be quite low, so I've been spending more time offline, distracting myself in lots of different ways. My daily shower is now a major component of my day, as it was last year when restrictions were in place. The Nuxe Rêve de Miel range has been in rotation for the last 10 months, helping to lift my spirits instantly.
In terms of scent, I find the products a lot more floral than honey, which I prefer. Some other honey based products I've used from different brands were the equivalent of squeezing a tube of the golden stuff over yourself! This range is predominantly floral for me, making it light, bright and feminine, instantly putting me in a better mood.
Rêve de Miel by Nuxe is aimed at those with even the driest of skin, and is suitable for sensitive skin too. In the winter, my skin always needs extra hydration and nourishment and that's where these products come in. They've looked after my skin something fierce and I think you're going to love them!
Nuxe Rêve de Miel Body Scrub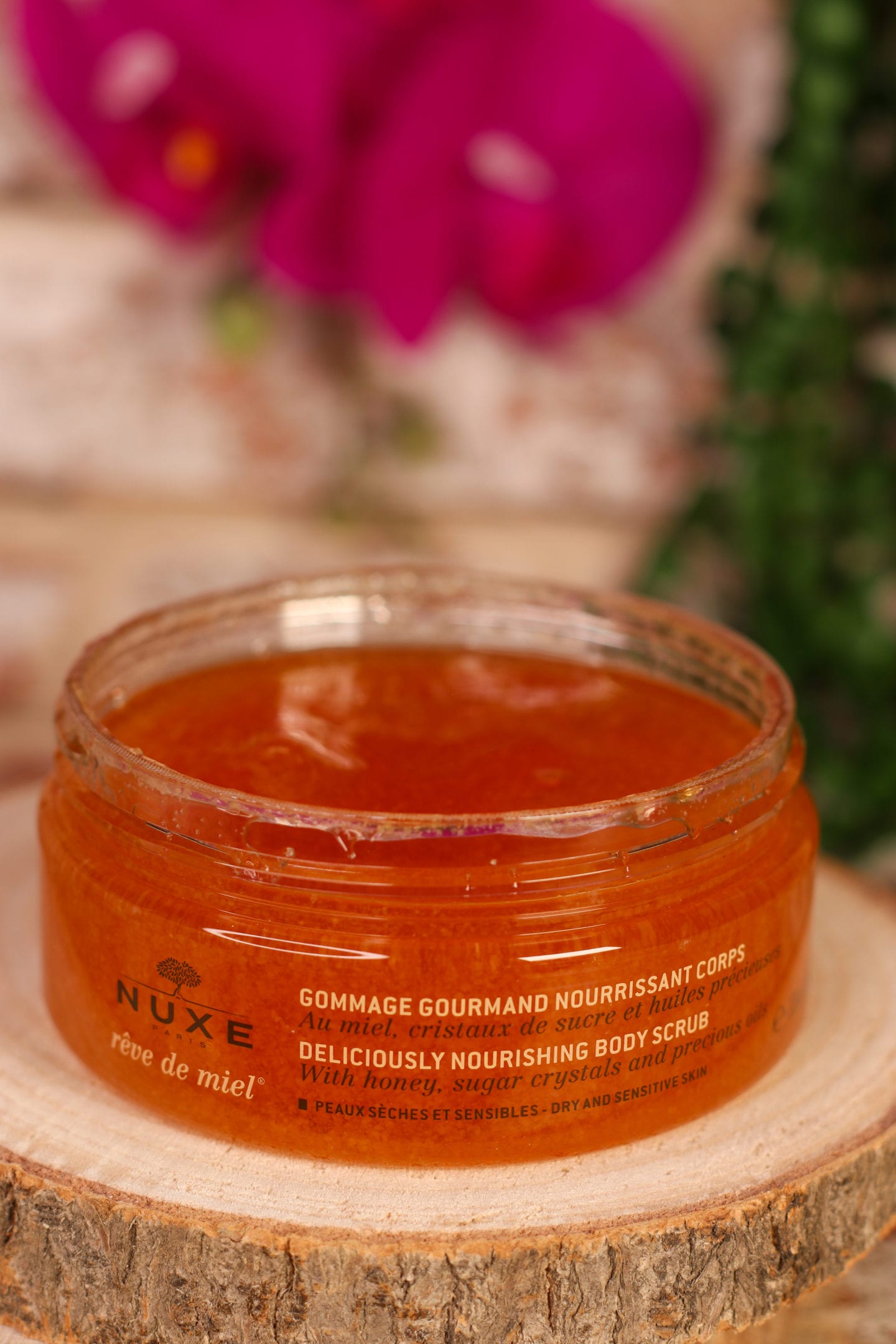 The Nuxe Rêve de Miel Body Scrub (€26.07) is almost good enough to eat (don't eat it ok thanks) with its floral-honey scent. It contains honey, sugar crystals, crushed rice, precious botanical oils and shea butter, all of which combine to both exfoliate and nourish the skin. I like to apply it to damp skin, taking a bit of time really working it over any dry parts. As I rinse it off, I love seeing the water droplets run over my skin as the oils creates a protective barrier. This is a really gentle exfoliator, but always leaves my skin feeling super soft and hydrated afterwards. I wouldn't use it to remove fake tan though as it isn't overly gritty. But I find on the days where I do a full body exfoliation, I just feel better!
Nuxe Rêve de Miel Melting Honey Body Oil Balm
The Melting Honey Body Oil Balm (€25.90 AF link) is a thing of beauty. It starts off its life as a rich balm, feeling like a silky body butter initially. Then as its worked into the skin, it turns into a lightweight and fast-absorbing oil. Don't let the thought of an oil on your body put you off! This melts on application and is absorbed really quickly, leaving the skin feeling soft, soothed and nourished thanks to the honey and precious botanical oils. I absolutely love the scent of this and have been known to randomly smell my arm throughout the day after I've used it in the morning!
Nuxe Rêve de Miel Ultra Comforting Face Balm
I've spoken about the Nuxe Rêve de Miel Ultra Comforting Face Balm (€29.50 AF link) so much over the last 6-7 months, with it becoming my favourite night time moisturiser. Like the other products in the range, this contains honey, propolis and precious oils, soothing and nourishing the skin. I love using it at night, especially on days where my skin is feeling dry and tight because I know it'll be transformed the next morning. My skin drinks this up all year round, but more so during the winter when the days are cold and the central heating is on more. I think those with drier skin types will be able to use this morning and evening, but for me with normal/combo skin, it's the ideal night product to lock all of my serums in at night.
If you're looking to treat yourself to a beautiful range for your skin this year, definitely check out the Rêve de Miel Range from Nuxe. Your skin will thank you later!