Before Christmas last year, Pippa O'Connor launched her new makeup brand, Up Cosmetics. She partnered up with Una Tynan, the brains behind Blank Canvas Cosmetics, to launch 13 products for the eyes, lips and face. Back in the era of the Pippa Palette, there wasn't a day that went by where I wasn't asked if that palette was coming back in stock! And now I'm delighted that these products are here to stay!
I was sent four of the products to play with and review and wanted to give you my thoughts, along with swatches, to help you decide what to pick up.
You can't go wrong with a palette like Trio One with its bronze, blush and highlight. The bronzer is a soft matte brown which leans warm, making it a great shade to sweep across the face, ready to give a soft glow. Despite its matte texture, it's buttery soft and blends beautifully too. Those of us who are fierce pale at the moment will enjoy how buildable it is and I like using it on my eyes as well.
The blush is a soft pink with golden shimmer running through it and is super flattering on. When the light hits the skin just right, it really picks up the gold, adding soft radiance.
The highlight is BEAUTIFUL and to me, it's the star of the show. It feels soft and almost spongey when I press my finger into it, but goes on the skin like a cream. It's got the perfect mix of golden and silvery tones, making it really wearable. I've worn it on my cheekbones and on my eyelids too and the effect is soft, understated and classic. Just like me really…
There's a second palette, Trio Two, that's got darker shades, aimed at those with deeper skin tones and looks equally as beautiful.
In the photo below, I'm wearing Trio One on the eyes and on the cheeks too, along with the Lip Gloss in Como, which you'll see below.
The first time I opened Quad One, I said "Yesssss" to myself because this is everything I love in a palette. There's bone coloured shade which can be used to set your primer or on the lid to brighten up a daytime look. Then there's that shimmery copper shade… If you know me at all, you know that I'm all about that copper life as it makes my green eyes look even greener. The mid tone brown matte shade works great in the crease or as a wash of colour all over the lid and I can see myself finishing that pan first. And the darker matte brown adds definition to an eye look. The mattes are buttery, soft and while there's a slight bit of fall out, it's nothing worth giving out about.
It's a gorgeous palette and if you check out the Up Cosmetics website, you'll see there are two more quads in the collection. Quad One is a staple though and is nice and versatile too for times where we'll need to go from day to night!
In the photo below, I have Quad One on the eyes, with a lighter application of Trio One on my cheeks compared to the photo above.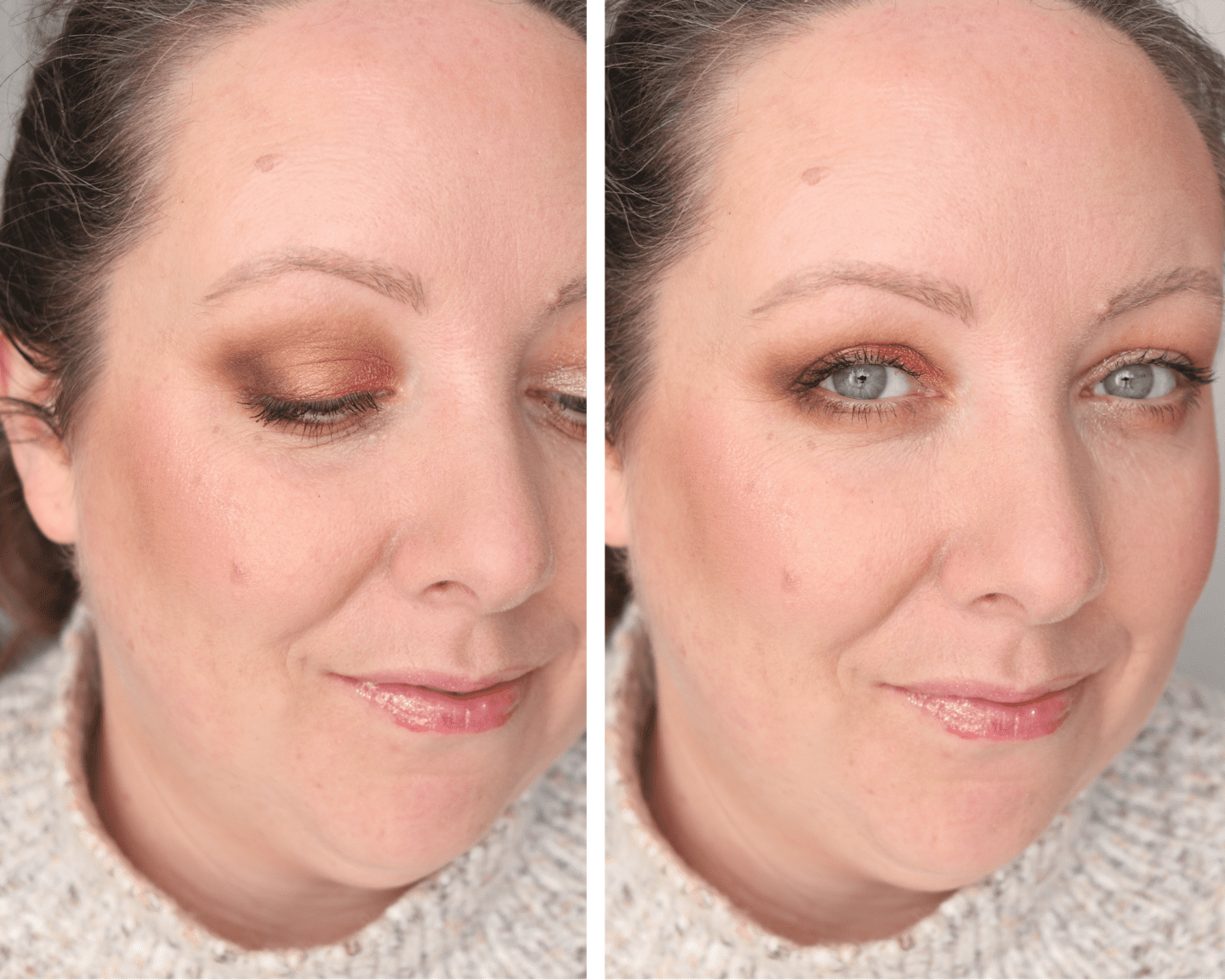 Siren is one of four lipsticks from the collection. In the photos on the website, it looks like a darker, true red, but on me, it's more of a pink toned red. The formula is rich and creamy, feels moisturising on, and has a soft sheen to it too. Full disclosure, I've not tested this shade out properly for longevity because where would I be going wearing a bright lip at the moment? Nowhere! If I pick up the two more nude shades, I'll be able to test them out for you and report back!
I love a lip gloss and Como is a little beaut. With an almost clear base and flecks of silvery gold running through it, it's more of a lip topper for me. I haven't been wearing it on its own at all, as I like glosses with a bit more coverage. But over the top of a lip liner or a nude or pink lipstick, it's stunning. It's got that slippy/sticky balance down just right so it stays put for a good while, and needs to be topped up after eating. It's one of three glosses in the collection and I hope they bring out more as the formula is lovely.
The Up Cosmetics range is available online now. Did you see anything that tickled your fancy?