It's been a long time since a budget foundation knocked my socks off the way the Penneys/Primark PS… My Perfect Colour Perfect Finish Foundation has! When Penneys first reopened, I found myself wandering through the aisles, completely overwhelmed to be in a shop again. But sure enough, I ended up in the beauty section, where I belong! I bought a couple of the Penneys foundations and of the two, this one hit all of the marks. We won't mention the other one… But if you want to see it in action, check out my recent Reel.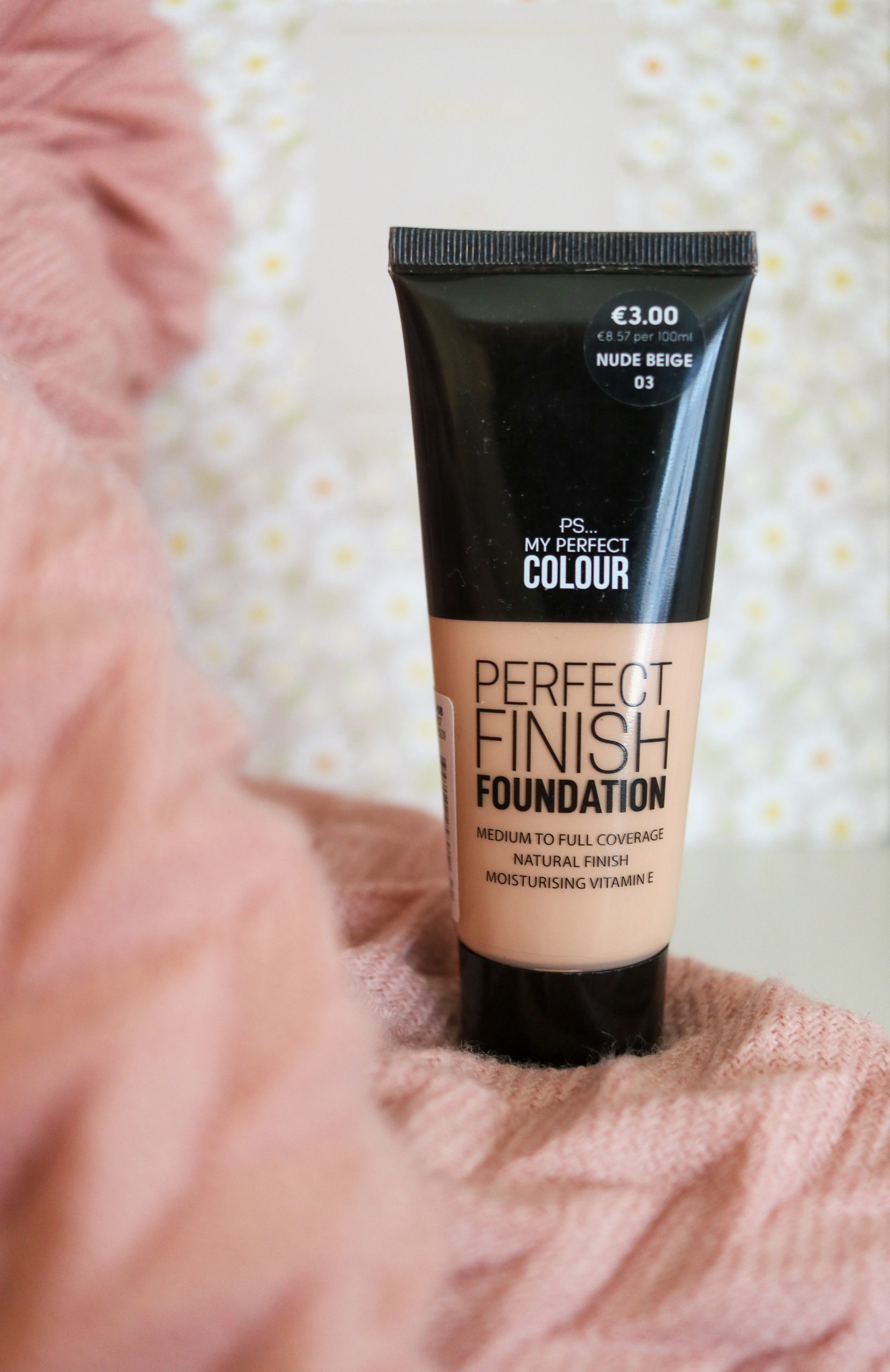 The Primark PS… My Perfect Colour Perfect Finish foundation is described as a medium to full coverage foundation, with a natural finish. I had to make a guess at the colour match as shops don't have testers, and shade matched myself to 03 Nude Beige. And I was delighted to see that it was a great match! Also, your eyes do not deceive you… This is €3. Cheaper than a coffee these days!
The formula is on the thicker side, and it's not runny at all. It's also quite heavily scented, but I didn't find it overpowering at all. I actually like the scent, and it disappears quickly enough if you're not a fan of fragranced products.
The My Perfect Colour Perfect Finish foundation applies like a dream, gals. A DREAM! I've tried applying it with my fingers, a brush, a makeup sponge, and each time, the finish has been even and beautiful. One layer on me gives a really decent medium level of coverage where it doesn't look thick or heavy. My skin still shows through and there's a soft luminosity to it. It's easily buildable on areas that you need more coverage, yet still feels lightweight on the skin.
Primark PS… My Perfect Colour Perfect Finish foundation before & afters
Because I've an oily t-zone, I like to set all of my foundations in those areas. But if you check out my recent YouTube video, where I do a wear test of this very foundation, you'll see the difference between powdering and not powdering it.
Gals, this foundation lasts beautifully on my skin. Yes, there is some wearing off when I wear a face mask, but that happens with every base on me. But I've worn it so many times now and can't get over how gorgeous it still looks at the end of the day. In the wear test, found below, you'll see that it gathered slightly in my pores on the 11 hour mark, but come on, 11 hours! I think those with dry skin will love this foundation thanks to the moisturising vitamin E, and for those of us with oily skin types, once we powder it, we're good to go.
If you're on the hunt for a bargaintastic foundation that looks beautiful on the skin, then root out your €3 from the bottom of your handbag and pick this up. It's a wonderful base that far outperforms some of the more expensive foundations in my collection! Yes, even the ones that are 10 times the price! I don't have any press release info as I think this is an old product, and I bought it, rather than it being sent to me. So I'm not sure how many shades it comes in.
The next time you're in Penneys/Primark, then check this out and also, let me know what other beauty bits from Penneys' own brand are worth picking up!
Testing Penneys/Primark PS… My Perfect Colour Perfect Match Foundation