I'd say I'm about 67% face serum at any given time, gals. It's the one part of my skincare routine that I never miss and I love changing them up according to my skin concerns. My skin goes through phases of needing more hydration, brightening, anti-aging benefits etc and I listen to it. In this post, I'm going to talk you through 4 Image Skincare serums to try this autumn, or all year round really.
Why should I use a serum?
Serums are packed full of a high concentration of active skincare ingredients, much more than a moisturiser. A moisturiser should be used to lock in your serums, not instead of one.
A serum will generally have a lighter texture, containing smaller molecules, which can penetrate the skin quicker and deeper. This is why they're a great addition to your skincare routine as they can target specific skincare concerns more effectively.
Image Skincare has a wide range of serums in their collection, and I have four to talk you through today.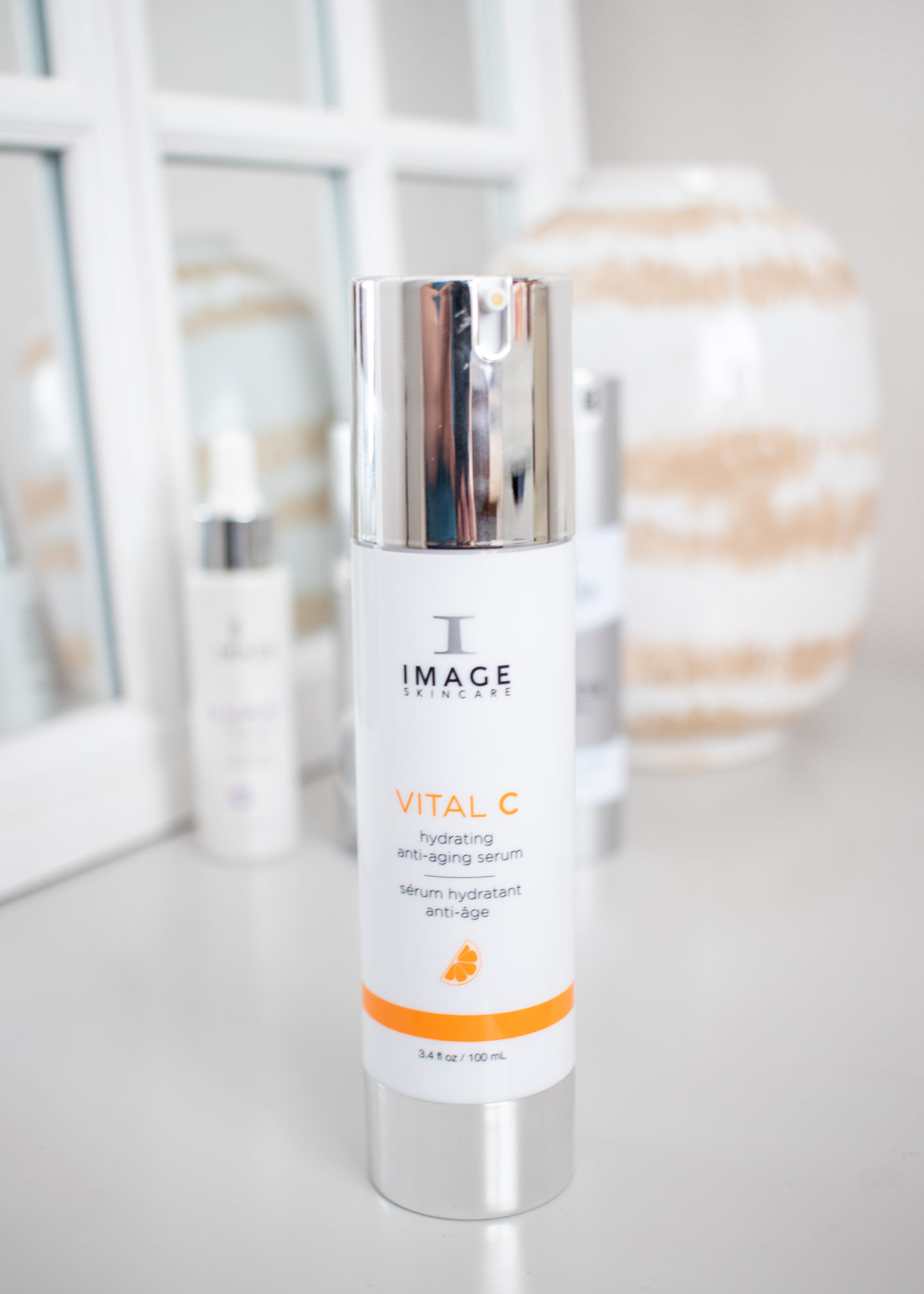 Let's start with the award-winning, best-selling Vital C hydrating anti-aging serum (€76). Vitamin C is an ingredient that I always make sure to have in my skincare routine in the autumn to help keep the summer glow going. The Vital C hydrating anti-aging serum is pretty much self explanatory in terms of the name.
Not only does it have multiple forms of vitamin C to help brighten the skin and help reduce any dullness or fatigue, but it has hyaluronic acid too which hydrates the skin, plumping out any fine lines and wrinkles. Antioxidants help protect the skin from stressors too. It's a really solid all-rounder that suits all skin types and if you love a zesty-scented skincare product, you're going to love this. It comes in a 50ml tube and a while back, Image Skincare launched a 100ml tube, such is the love and demand for it.
Another great one for autumn is the Image Skincare ILUMA Intense Facial Illuminator (€79). A recent launch from the brand, this serum gives dull skin the old heave ho. Here in Ireland, we had approximately 10 days of sunshine this summer, and we made the most of it! There's always next year… But with sitting outside in the sun comes sun damage and UV exposure is one of the main culprits of hyperpigmentation on the skin. If you're seeing any darker spots on your skin, then this serum might be just what you need.
It contains tranexamic acid, vitamin C and niacinamide to help brighten the skin, reducing the appearance of pigmentation and dark spots while bringing radiance back to the skin. I love looking lit from within!
Now, onto the anti-aging serums, starting with Image Skincare's the MAX Stem Cell Serum (€118). This serum contains nutripeptides and plant stem cells to help stimulate the production of collagen and combat the visible signs of aging. When we reach the age of 30, our skin loses 1% of collagen per year. Our skin can lose its elasticity and can begin to sag. So you best believe I'm going to help collagen production however I can!
This is a great serum for helping to firm up the skin, helping to restore resilience and revitalise the skin. And as for the MAX Stem Cell Creme? That's one of the best products I've ever tried. Ever.
Finally we have the Image Skincare's Ageless Total Anti-Aging Serum (€84.50). This powerhouse anti-aging serum helps to reduce the appearance of fine lines and wrinkles. It also evens out skin tone, helping to firm the skin and combats dry skin. The magic in this serum is glycolic acid which helps to remove dead skin cells, giving you brighter, smoother, more even toned skin. It also minimises the appearance of fine lines and pigmentation, giving a brighter, more youthful complexion.
A targeted firming peptide helps to tighten up the skin, while hyaluronic acid hydrates the skin too. It's best to use this serum at night for maximum effects and no matter what, always use an SPF during the day, rain, hail or shine!
These four serums are available online and from your local Image Skincare Clinic. If you'd like to support them, then you can find your closest one here.
Learn how to use the Image Skincare Ageless Total Pure Hyaluronic Filler properly this autumn and winter!