Post contains PR samples & affiliate links
It's rare that I get my hands on a collection and am intrigued by every single piece of it. Usually there's a dud or two, or there's a product that I know right away that I'm not going to use. But with the Tara Collection from Sculpted by Aimee, it's a beautifully curated set of products. This limited edition four piece collection is centred around Tara's makeup cut essentials and when the gals announced the collection and asked us to guess what it might contain, I knew there'd be a peachy nude lip product and a cream liner!
Sculpted by Aimee – The Tara Collection
The Sculpted Cheeks and Eyes Palette by Tara (€36) contains 5 eyeshadows, a bronzer, highlight and blush. Each shade is named after those who are close to Tara and it's a really cohesive palette. There are three matte shadows in the palette and two shimmers. The matte shades are soft, buttery and bendable and the shimmers pack a punch in terms of colour payoff. Of the two shimmers, my favourite is Izzy, the bronze shimmer shade, second from the left. It applies like an absolute dream. I found Ava a bit harder to get the same colour payoff as easily.
The bronzer, blush and highlight are absolutely gorgeous. Gracey is a neutral toned bronzer that leans almost cool on my skin tone and is great at carving out the cheekbones and the eyes too. Jools is the most stunning highlight and is buttery soft, and as for Genie, I love a peach matte blush!
The Sculpted Cheek & Lip Cream by Tara in Peach (€18) is a beautiful soft peachy pink cream blush. I'm a huge fan of these products from the main Sculpted range, especially in the summer, and this one is just as easy to work with as the rest. It can be applied with a brush, makeup sponge, or your fingers and can be sheered out or build up, depending on the pigmentation level you're after.
Above you can see the blush with a thick swatch and then blended out. It has a soft, natural sheen to it that gives the cheeks an instant dewy glow. It also looks really flattering on the lips too and I've gotten so much use out of it!
I wanted to show the blush compared to the Cream Luxe Blush in Peach Pop, for those who might already have that, and are wondering how they compare. Below is Tara's blush on the left and Peach Pop on the right. The different is subtle enough, but for peach blush connoisseurs like myself, they are completely different!
The Sculpted Brighten & Smoke Eyeliner Duo by Tara (€18) has a black kohl liner on one end and a creamy nude shade on the other. You can either brighten your eyes or smoke out a look with this handy liner. The black kohl end is ridiculously pigmented and smudges out to perfection and is a good shout for those who love a smokey eye. The brighten end needs a couple of coats on me to become fully opaque, but does a great job of helping hide my tired eyes.
The Sculpted Velvet Lip & Gloss by Tara (€21) has a peachy nude liquid lipstick on one end, and a lighter peachy nude gloss on the other end. They can be worn together or separately and feel really comfortable on the lips. The liquid lipstick sets without leaving the lips feeling dry and the gloss feels really nourishing on the lips, feeling almost like a balm. On my skin tone, these are slightly pale on me and I think a darker lip liner would help them look better on me. But formula-wise, they're spot on.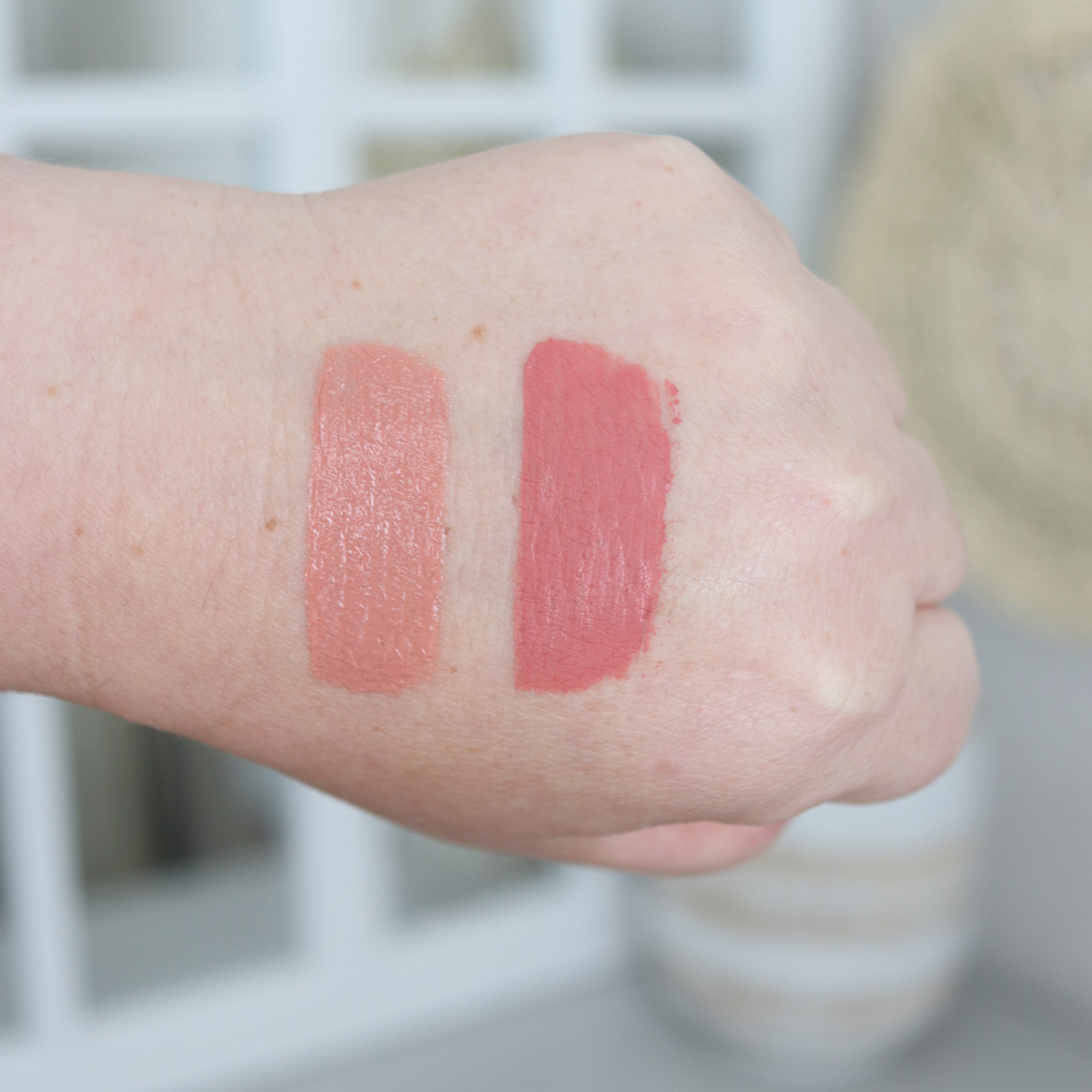 The Sculpted by Aimee – The Tara Collection is limited edition, so if you see anything you like the look of, pick it up soon! Read more reviews on Sculpted by Aimee on the blog!
If you'd like to see a video, showing these products in action, then head to my YouTube channel!