*post contains affiliate links*
Back in the day, I was all about the full coverage look and I think the older I've gotten, the more I'm enjoying a more natural finish with my foundations. I was sent the Sculpted Second Skin Dewy Finish (€27) a while back in shade Fair 2.0 and then took a notion to buy the Sculpted Second Skin Matte Finish in the same shade so I could compare the two. And I thought it would be a handy way to review the two Sculpted Second Skin foundations and compare them side by side.
Sculpted Second Skin is a range of liquid mineral foundations, coming in two finishes and in nine shades. They both contain SPF50 (but if you're going to be sitting out in the sun, I'd always wear a regular SPF underneath all of my foundations). Both contain Hyaluronic Acid too, along with antioxidant Gotu Kola and Hydrolyzed Pea Protein to hydrate.
I tried both of these foundations with my makeup sponge and with a brush and find that they both sit better on my skin having used a sponge to apply it. It's worth noting that using a sponge can sheer out the coverage, but that's ok because this is nice and buildable!
Because I've an oily t-zone, foundations with a dewy finish need a bit more maintenance with me to help them stay in place. But with Sculpted Second Skin Dewy Finish, it isn't too shiny or wet looking which I love. It still has the radiance that I'd expect in something promising a bit of dew, and I definitely need to powder down the centre of my face with this to keep it in place. Shade Fair 2.0 is a great match for me and I love the finish it gives, like it's my skin aka Second Skin, and feels almost like a moisturiser on. The photo above shows just under a pump blended into half of my face and the coverage is medium as promised, and you can see that it covers the redness and evens out my skin tone.
I was looking forward to seeing how Sculpted Second Skin Matte Finish would sit on my skin and I think it's gorgeous on. With this one, I found it definitely applied better with a sponge as opposed to a brush, because it's that tiny bit thicker in consistency compared to Dewy Finish and could tend to look a bit dry on the skin when I used a brush. So damp sponge all the way to give this even finish. Despite it's matte claims, it still gives radiance to the skin, even more so if I'm freshly moisturised, and wearing them both together side by side, I'd be hard pressed to figure out which one was which. I still needed to powder my nose, chin and forehead with this as I felt it didn't quite fully dry down on my.
How do they compare?
On the left is the Second Skin Dewy Finish and on the right is Second Skin Matte Finish. You can see how Matte Finish has a slightly thicker consistency.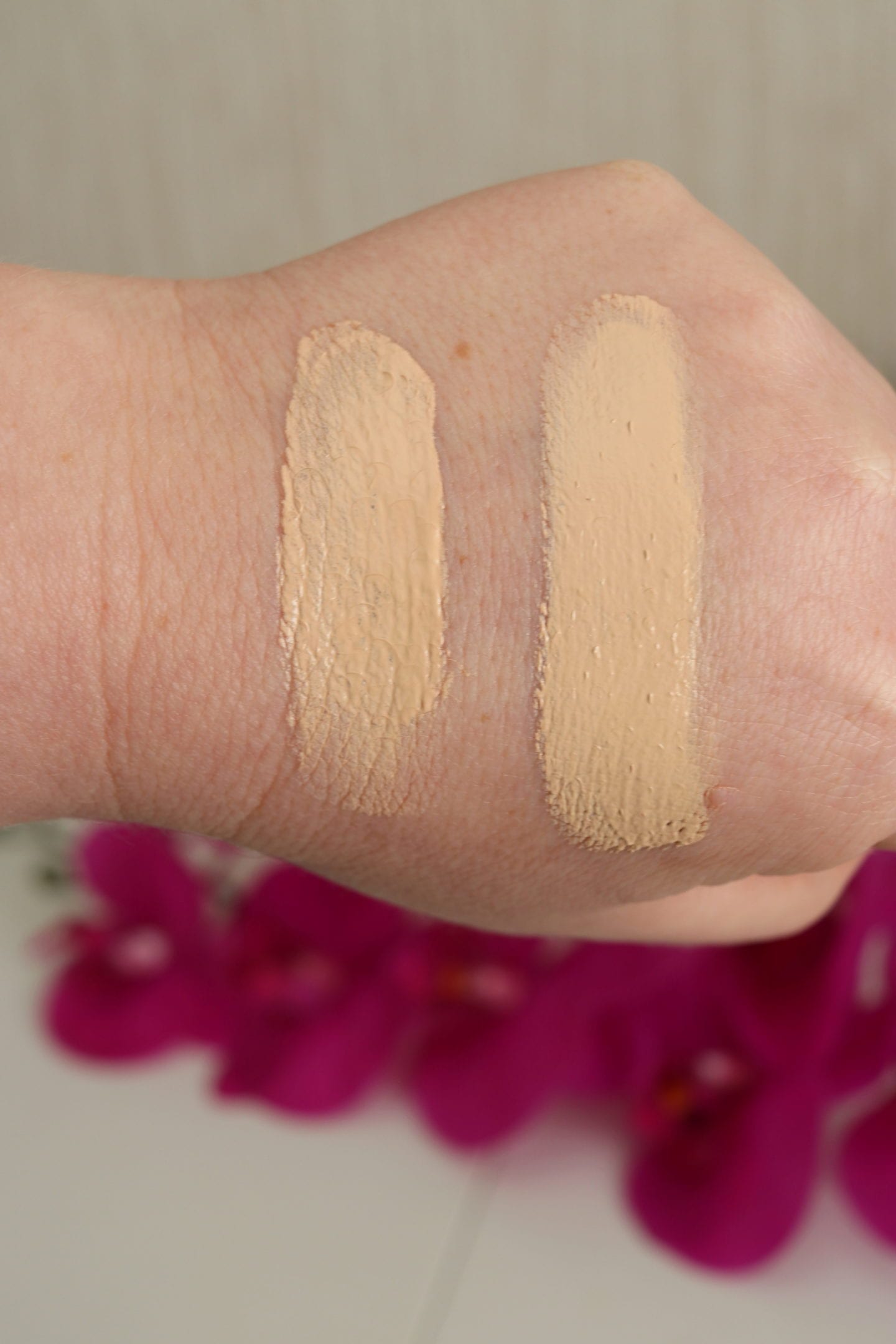 With the swatches smoothed out a bit, you can see the slight difference in the shades, with Matte Finish leaning a tiny bit more yellow compared to Dewy leaning a bit peachier.
Blended out, the finishes are so close, with Matte giving a tiny bit more coverage. But on my skin below, I can't tell the difference. Looking at my face in the photos below, my bare naked face is on the left, and in the photo on the right, Second Skin Dewy Finish is on the left hand side of my face and Second Skin Matte Finish is on the right hand side of my face. So you can see what they look like side by side on one face in the same lighting.
Both look and feel lovely on, and I wore them like this, one on each side of my face, for a week to test them out. On days where I didn't powder my oily bits, both foundations disappeared from my nose, but that's standard with me and foundations without a bit of powder. But I was really happy with the longevity otherwise, and they both felt lightweight on.
If you're looking for a medium and buildable foundation for the summer, that feels lightweight on the skin and looks natural on, then Second Skin is well worth checking out! Have you tried it yet?
You can read about the Sculpted Beauty Base in a blog post from earlier this year which sits beautifully under both of these foundations!