When a product is hyped, especially on TikTok, the cynical geriatric comes out of me. I always wonder if it's really that good, or whether the "Oh my God, can you see that?" brigade are working overtime! As you might know, I love trying out mascaras, and the Maybelline Lash Sensational Sky High Mascara finally started to tickle my pickle, as I started to see real reviews on Instagram. So I treated myself to it and I have some thoughts.
The brush is plastic, slightly tapered, with lots of bristles to comb the product through. But what I didn't realise when buying it, is that the brush itself is flexible. I've used mascaras where the join between the brush and the wand is flexible, but not the actual brush itself. It's almost too bendy and flexible, to the point where it feels like it's combing through knotty or tangled lashes! I feel like when the brush and wand is rigid on a mascara, I can really use it to push my lashes up and give more curl.
The first time I used Maybelline Sky High Mascara, I wasn't sure, because of the bendy brush situation. But the results were so impressive that first time, that I knew I was going to have to suck it up and get used to it! The tapered bristles means I can reach every lash easily, even the tiny ones. I find that I have to scrape the brush off the side a bit as it picks up a little too much product for my lashes, which can then lead to clumping. And on days where I don't wear shadow and just mascara, I don't like to have to clean up any mess. I don't mind a bit of clumpage sometimes, so it's worth noting if you prefer every lash separated.
Maybelline Lash Sensational Sky High Mascara Before & After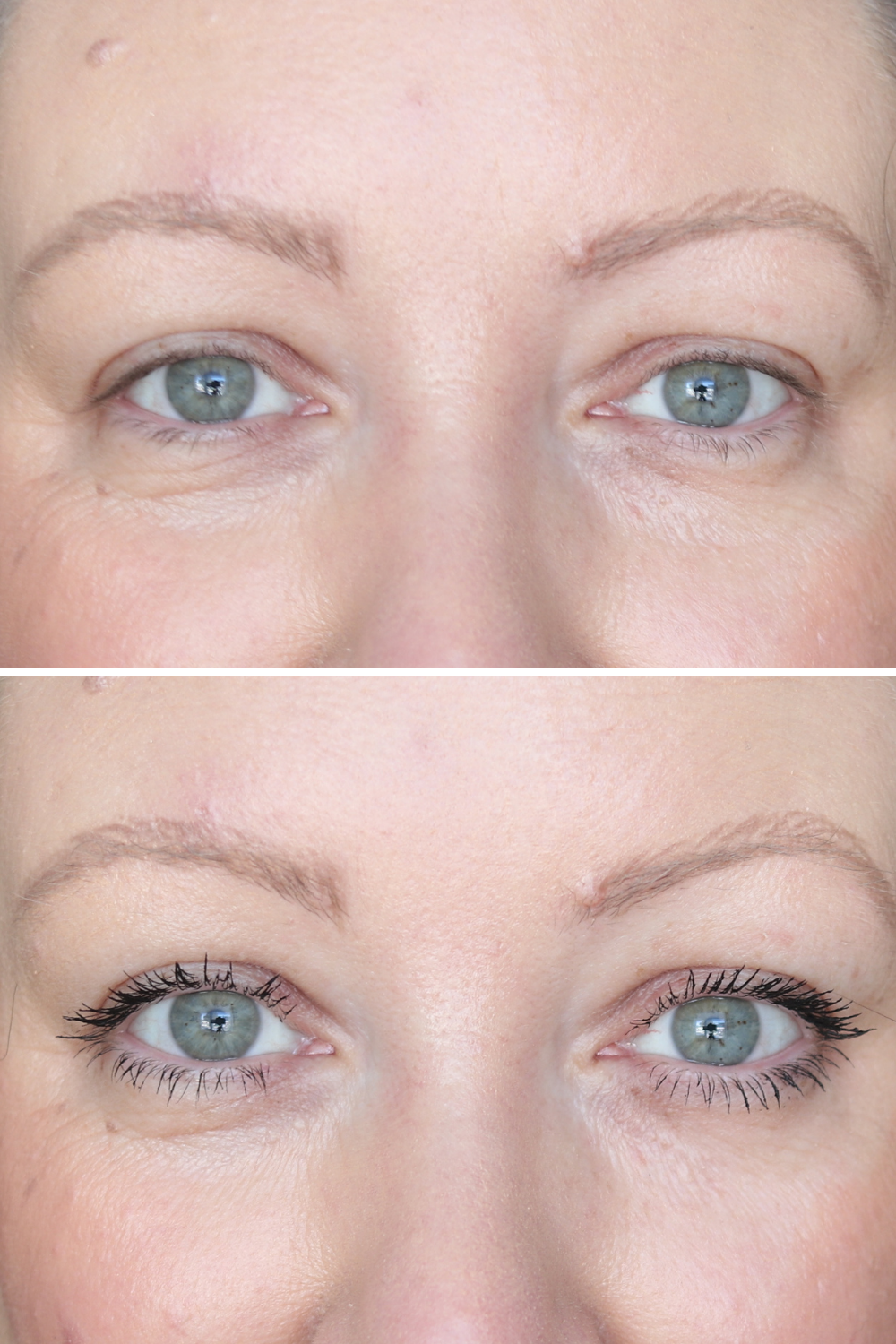 On to the before and afters! With Maybelline Lash Sensational Sky High Mascara, you can see from the shots that it gives decent thickness and length, with curl and some separation. As I mentioned above, there's a bit of clumping, which is a bit more obvious when wearing it without any other eye products.
My lashes don't feel hard or crispy when I wear this and the slight smudging you can see under my eye on your right is from sneezing right after I applied it on that day. Typical! But usually, there's no issue with smudging for me and the curl and lift remains the same as the day goes on. Removing it with my usual micellar or cleanser takes slightly longer with this, and I usually have to go in with a clean reusable cotton pad to make sure I've gotten it all off.
I feel like this mascara has a good balance of length and volume and is a great all-rounder for the price. I picked mine up at Boots recently where they was a Maybelline offer on, so keep an eye out for that. But for €11.99, I think we're on to a winner gals!
Read my review of the Benefit They're Real Magnet Mascara here!