It's safe to say that Sculpted by Aimee is killing it when it comes to bases. If you follow me on Instagram, you'll already know I'm a huge Second Skin and Satin Silk fan. The recent addition of HydraTint to the collection came at the perfect time, right as summer was about to hit. I chatted about it on Instagram and filmed a reel comparing all 4 Sculpted by Aimee bases, but it warranted a blog post, too, as there's a lot to chat about!
Post contains affiliate links
In this post, I'll compare shade 2.75 in HydraTint, Tint & Glow, Second Skin Matte and Satin Silk. And for the record, I'm 46 and have combination skin that can be sensitive with redness too. In the photos below with the products on my skin, I used the same amount of each product for half of my face and applied each with my fingers to ensure I was comparing them all fairly.
Sculpted by Aimee bases
This is described as a moisturising tinted serum and comes in 20 shades. It's made up of 90% skincare ingredients, including Hyaluronic Acid to hydrate and Centella Asiatica Water and Ceramides to boost the skin's integrity.
HydraTint is the sheerest of the four bases when applying the same amount of each base to the skin. Each product can be sheered out as much as you'd like, just by using less, but in comparison to each other, this looks the most sheer on the skin. I like that I can build it up easily if I need extra coverage, and it works best on my skin when I apply it with my fingers. But you can apply it with a brush or a sponge too.
It doesn't look shiny on my oily t-zone, and I've not needed to powder it to stay in place all day. Speaking of which, the longevity of this moisturising serum is fantastic. I've tried tinted serums in the past, only for them to either need to give me more coverage or feel too heavy on the skin. This feels lightweight and dries down quickly. It has SPF20, a nice cherry-on-top feature, but I like to use a minimum of SPF30 on my skin, especially in the summer, so I usually apply one under this. Those with dry skin will enjoy this too.
How does HydraTint compare to Tint & Glow?
This is one of the most commonly asked questions since posting my reel. And hopefully, the photos will show the difference visually. On my skin, Tint & Glow is much more glowy than HydraTint. It doesn't dry down on me, so I'd have to powder Tint & Glow for it to stay in place on my skin.
Tint & Glow also comes in 20 shades and contains Hyaluronic Acid to hydrate the skin, niacinamide to protect it, and carrot root extract shields the skin from the effects of blue light. It has SPF30, but to ensure you're getting full protection, it's essential to use enough of this. If you only apply a small amount, use a separate SPF underneath it. Tint & Glow is an excellent base for those with dry skin, as it feels more moisturising than the others, especially HydraTint. But on days when I want a sheer, glowy, radiant finish, I'll use Tint & Glow.
Second Skin Matte – buy here
Next up, we have Second Skin Matte. I've reviewed this before and compared it to Second Skin Dewy, showing that they both look very similar on my skin. This comes in 30 shades and is one of my all-time favourite bases. It gives more coverage than HydraTint & Tint & Glow but still feels lightweight on the skin.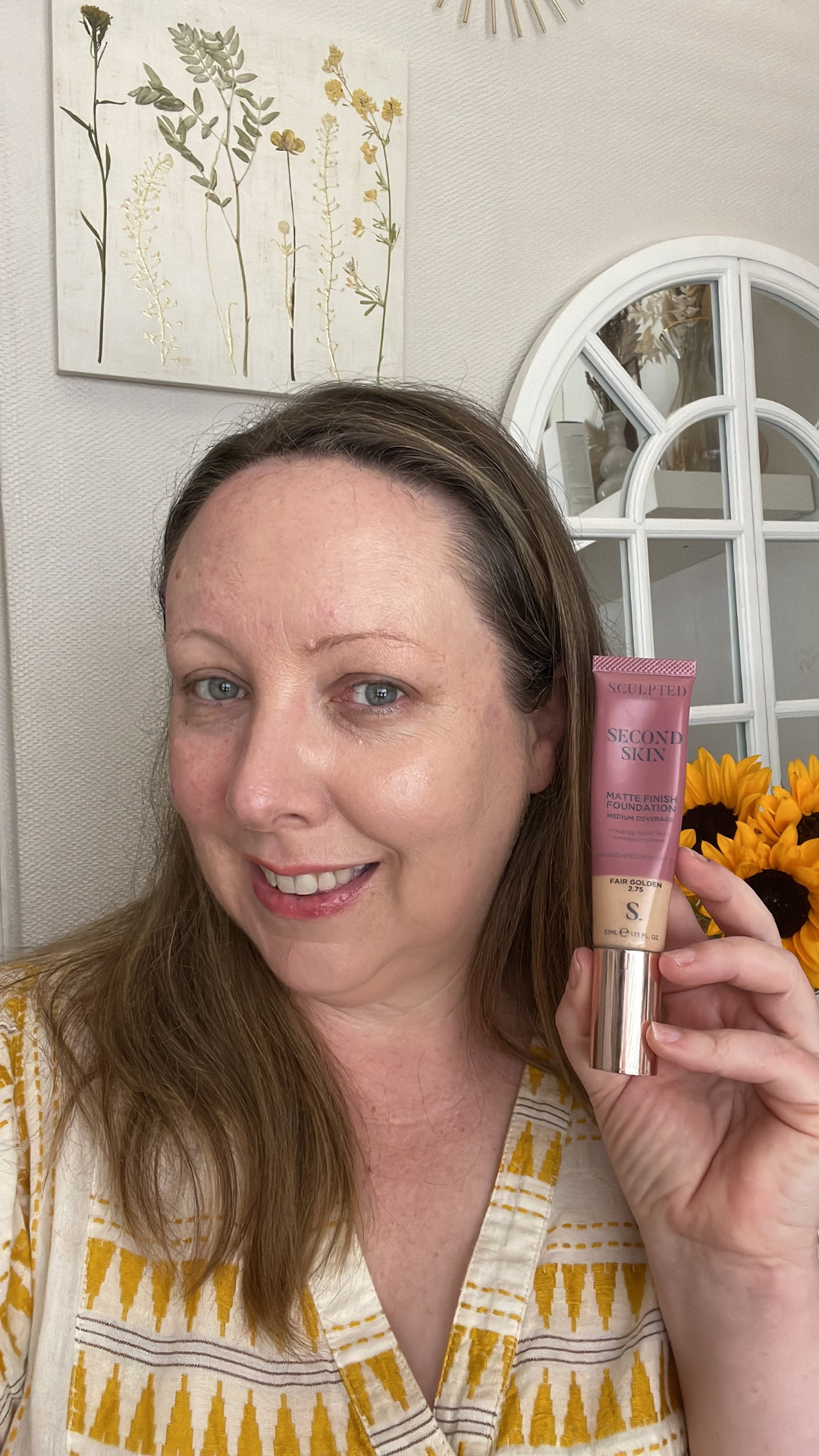 Whenever I wear Second Skin, I get comments and messages asking what I'm wearing because it has the perfect balance of coverage and radiance. I'll usually powder my T-zone to help keep it in place, but those with dry skin will love it too. It has SPF50 in it, but you already know what I'm going to say when it comes to that!
Finally, we have Satin Silk. This gives the most coverage of all of the Sculpted by Aimee bases, and if I want my skin to look flawless, this is what I use. It comes in 30 shades and is the thickest in formula than the other bases.
The best way to apply it to my skin is to pump it out on the back of my hand and then use a finger to dot it all over my face before using a brush or sponge to blend it into the skin. If I dip my brush or sponge into the pump on the back of my hand, I end up applying too much, and it can look cakey. It can be built up to full coverage, and when powdered, it lasts on me all day. This would work nicely on all skin types, and as it doesn't contain SPF, it is an excellent nighttime foundation.
Shade 2.75 of the Sculpted by Aimee bases
Each base is cruelty-free and vegan, and you're sure to find one that works for your skin type! They're all available in-store and online.