*This post is sponsored by Nuxe."
As a massive fan of all things Nuxe, I'm delighted to be working with them to tell you all about the Nuxe Merveillance Lift range. This is their new wrinkle-firmness correcting routine made up of five products designed to "reveal skin as strong as you."
Each of the products are infused with an ultra-corrective Micro-Algae Oil, a green active ingredient that concentrates the power of 4 billion native cells in a single drop to strengthen the skin every day. They all have a vegan formula, with no ingredients or derivatives of animal origin. And they're a joy to use because of the soft floral, musky scent. I don't know about you, but I love taking those few moments in the morning and evening to be present and carry out my skincare routine, step by step. And having products that smell and feel beautiful texture-wise, just adds to the ritual.
Merveillance Lift Oil-Serum
If I had to pick a favourite product from the range, I think it would be the Nuxe Merveillance Lift Oil-Serum (€49). The texture of this is almost like silk on the skin! Three drops is all I need and it glides over my skin effortlessly, helping to give smoother looking, more supple and toned skin. Those are the words that I love to hear when it comes to anti-aging skincare! I usually apply this first on cleansed skin and take a couple of moments afterwards to enjoy how instantly bouncier and toned my skin feels. It's incredible stuff and can be used morning and evening.
Merveillance Lift Eye Cream
The next step is the Nuxe Merveillance Lift Eye Cream (€37). It has a blurring effect when applied to the skin and I like to apply it with my ring fingers, giving a bit more care to the already delicate skin around the eyes. It helps to fade the appearance of wrinkles, puffiness and signs of fatigue, so it hides a multitude!
Merveillance Lift Powdery Cream
I then apply the Nuxe Merveillance Lift Powdery Cream (€45), which is for those of us with normal to combination skin. This closely follows the Oil-Serum in terms of being my favourite and I'm obsessed with the texture of it. It has a soft, powdery texture to it which instantly blurs the skin. Between the texture and the scent of it, it's added a good 90 seconds onto my skincare routine, just because I completely enjoy applying it!
Merveillance Lift Velvet Cream
For those who have normal to dry skin, there's the Nuxe Merveillance Lift Velvet Cream (€45). It gives instant suppleness and tone to the skin and while the texture feels more like a regular cream, it melts into the skin beautifully.
Merveillance Lift Night Cream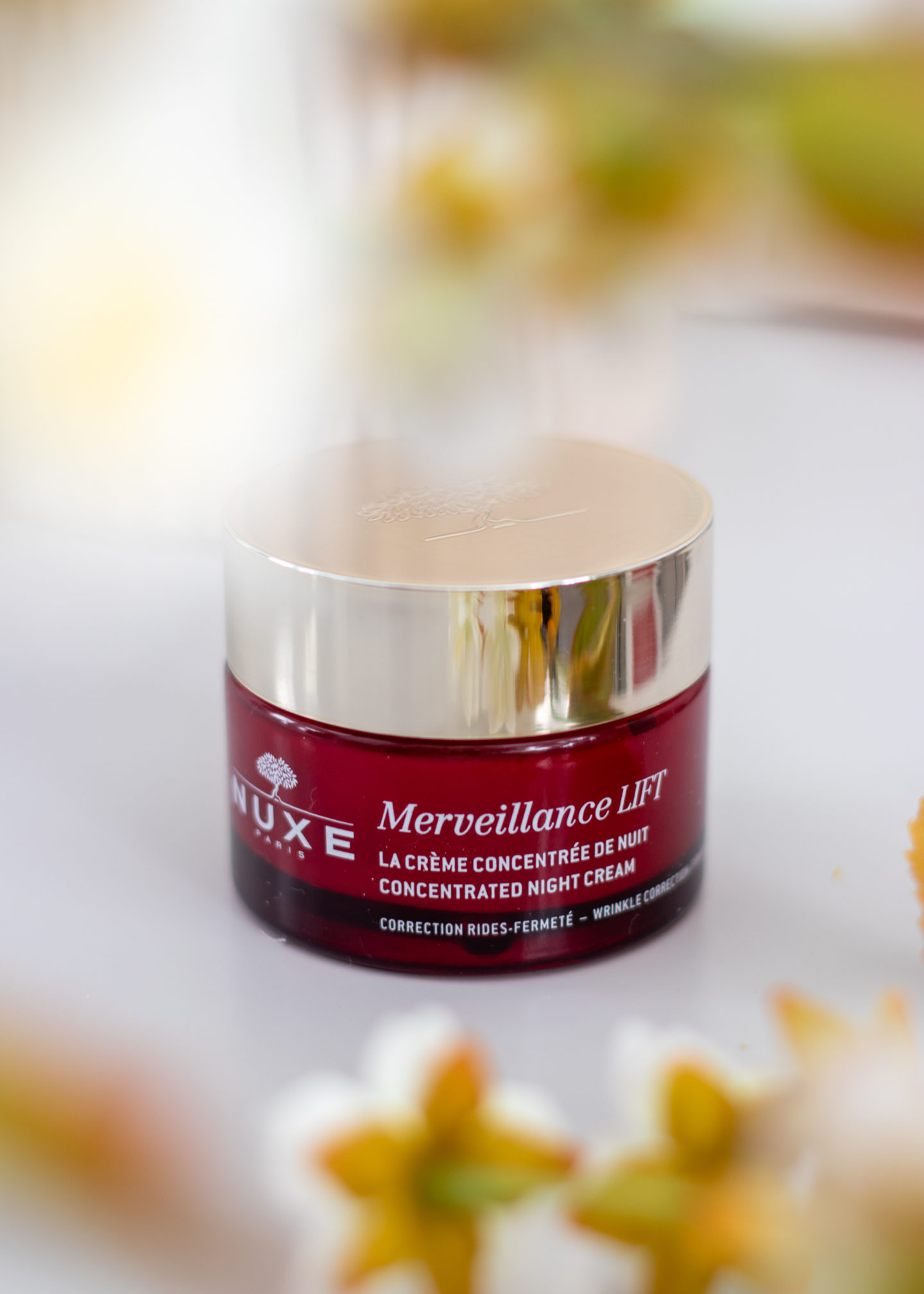 At night, I use the Nuxe Merveillance Lift Night Cream (€48), which reveals rested and smoother skin, much like if you had 2 extra hours of sleep! My skin feels soft, smooth and ready for a busy day ahead after using this the night before.
The Nuxe Merveillance Lift range is available from stockists nationwide.